International Construction Online Exhibition BUILDB2B-EXPO.ONLINE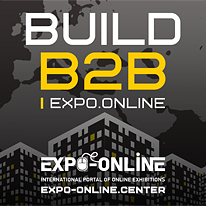 14 November 2020

The exhibition portal Expo-Online.Center invites you to take part in the international construction online exhibition BUILDB2B-EXPO.ONLINE
The exhibition portal Expo-Online.Center invites you to take part in the international construction online exhibition BUILDB2B-EXPO.ONLINE.
International Construction Online Exhibition BUILDB2B-EXPO.ONLINE is a professional online platform for promoting goods and services in the construction industry. Participation in the online construction exhibition BUILDB2B-EXPO.ONLINE will allow suppliers of construction products and services to expand their sales market, find new partners and potential customers, and obtain useful information for running a successful construction business.
The online format of participation is an opportunity to strengthen the position of your brand both locally and internationally, provide information support for your construction business, and attract new customers and partners.
More information on the Official page: