Musical modules for packing in a case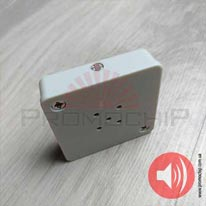 24 August 2022

We present to our creative customers musical modules for packaging and souvenirs in a 51x51x15-20 mm case.
The body case is plastic, white or black, consists of two parts, which are connected to each other with two screws. The design of the case makes it possible to independently replace the batteries, in the option when they are installed on the sound module board. A speaker is located on one side of the module, and double-sided tape is glued on the other side of the case, which allows you to quickly attach the packaging module inside. The sound of the module is activated by a light sensor, when the light hits, or by a button. A light sensor or a button can be turned on, both on the wire and in the case, turn on the exit through a special hole to the outside. The length of the recording depends on the type of sound module used. One of the options can be a module with recording up to 115 seconds (recording is made using a programmer, non-rewritable), another version of a sound module with a recording of 250 seconds with an amplifier (recording is made using a programmer, rewritable) and a version of a sound module on a microSD card with an amplifier, which recording duration depends on the memory size. In the latter, the sound is activated only by a button with a fixing position, playback is sequential. The basic set of batteries is enough for 50-100 complete replays of the recorded melody, which also depends on the duration of the recorded melody and the type of sound module used. Specify the cost and availability. Modules are made to order, sale in small lots is possible.
Specify the cost and availability by email: [email protected]