Sound module for toys without housing Promochip-115GB-1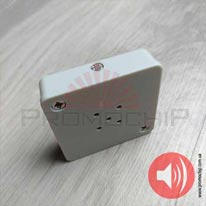 24 August 2022

We would like to bring to the attention of manufacturers of soft toys Promochip-115GB-1 sound modules without housing for soft toys, promotional products and souvenirs.
Promochip-115GB-1 sound modules are distinguished by the absence of a hard case, the module consists of two main parts, a motherboard and a speaker. Playback of the recorded melody is activated by pressing a button, which can be located on the system board of the module or can be on a wire of the required length. Replacing the batteries takes place without much effort, the mounting brackets are installed on the board of the sound module, and since there is no case, they have free access. Playback modes can be set individually, playback can be sequential or random.
The customer's sound file is recorded on the module, recording is carried out using a special programmer, for recording the customer provides a file in *.mp3 format. Recording duration up to 115 seconds (module type is non-rewritable). The basic set of batteries is enough for 50-100 full reproductions of the recorded melody, which also depends on the duration of the recording, the type and quality of the batteries. The standard batteries with which the module is supplied are 3 elements type AG10 (tablet). Modules are made to order, sale in small lots is possible.
All news Exhibitor