How to participate in online exhibitions Expo-Online.Center for free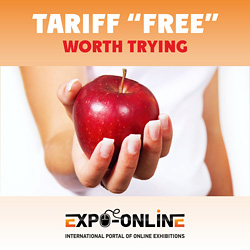 Tariff plan 'Free' allows you to become a Exhibitor of any active international industrial online exhibition of the Expo-Online.Center portal and post information about the company in the Profile of the exhibitor. To use all the functionality you need to choose one of the paid tariff plans.
The 'Free' tariff is suitable for all who need to place information about the company without the possibility of promotion. The term of the tariff plan is 1 year, with the possibility of renewal.
Functionality of the tariff 'Free' allows:
add information to the profile of the Exhibitor;
add contacts for communication;
add information to the

'

Favorites

'

of the Exhibitor's cabinet;
send requests to other Exhibitor's and Visitors;
participate in the general discount program and purchase goods and services at discounts;
connect online chat and attendance statistics systems;
connect social networking buttons.
Tariff restrictions 'Free':
there is no page with Exhibitor's

virtual exhibition stand

;
there is no possibility of placing backlinks in the Participant's materials;
the functions of adding articles, news, downloads, video materials are not available;
the function of adding goods and services is not available.
* Notes:
Using the 'Free' tariff means the registration and placement of the Exhibitor's general and contact information, taking into account the limitations of this tariff.
Registration in the system, access to the Exhibitor's cabinet and map viewing functions are available free of charge to all comers. An obligatory condition is that participants of online exhibitions can only be enterprises - legal or private persons - entrepreneurs. After sending an application for posting information, the administrator will send a request for sending documents confirming the registration of the company - Participant of the online exhibition. In the absence of documents, the application will be rejected until the documents are submitted. To provide documents, 5 working days are provided, after which the application and account will be deleted.
Within the framework of the Exhibitor's cabinet any number of applications for participation in various exhibitions with different service rates (subject to their restrictions) may be submitted, provided that the type of activity corresponds to the subject matter of the selected exhibition.
The validity period and the terms of the 'Free' tariff can be changed or terminated by the Administration unilaterally without prior notification to the User and without payment of any compensation in connection therewith.