LED GAMMA - universal led magistral luminaire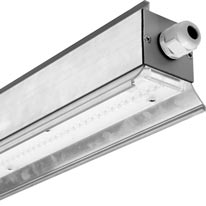 12 December 2019 | SVITLOTEK ®
Group of companies 'Svitlotek' - Ukrainian manufacturer LED luminaires and magistral lighting systems, expanding the lineup of LED luminaires 'LED GAMMA' (TM 'LUMEN') series with diffuser light flux.

LED luminaires in this series are designed for lighting of commercial premises of various types of lighting warehouse, industrial and other large-sized facilities. LED magistral luminaire 'LED GAMMA' with the diffuser and without diffuser successfully used for lighting of shops and other premises such major of trading networks in Ukraine, as the 'Epicenter', 'ATB', 'MegaMarket' and others. Luminaires 'LED GAMMA' - a high quality lighting products, which is provided used in the production of high-quality materials and components from the leading manufacturer Vossloh-Schwabe (Germany). Since luminaires are produced in Ukraine, they have a reasonable price and do not have analogues in the Ukrainian market in terms of price / quality.

LED luminaires 'LED GAMMA' can be with transparent, opaque, opal and prismatic diffuser. LED magistral luminaire 'LED GAMMA' are produced in two sizes with a length of 1700 and 3400 mm, can be connected to a light line or set individually on a surface or suspended from the ceiling.

'LED GAMMA' can be:
- without optics, with standard optics, with a special symmetric and asymmetric optics, intended for retail;
- with clear, opal, prismatic diffuser or without diffuser;
- with standard luminum, black, gray, white, silver color or any other color (optional);
- with a degree of protection IP20 (standard version) or IP44 (on request);
- length 1700 or 3400 mm;
- optionally supplemented by the DALI driver and emergency power unit from the European manufacturers.
Luminaires 'LED GAMMA' passed all the relevant tests have been certified in the UkrSEPRO system and comply with energy efficiency class A +. The use of this type luminaires allows to implement complex lighting project shopping areas, complex, industrial and warehouse facilities of any scale and complexity.
All articles of the Exhibitor