Sound autoinformers to increase sales in supermarkets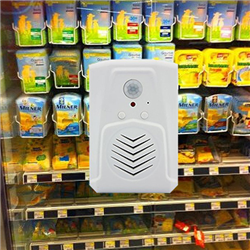 02 September 2022 | Promochip™
Electronic sound autoinformers allow to attract more attention of potential buyers to goods and services in sales outlets of supermarket shopping centers, salons, shops.
An autoinformer is an electronic device that automatically triggers the movement of a potential buyer and plays a recording of an audio or video message. In addition to trade, such sound devices in practice can be used in various areas where it is required to attract the attention of a person, informing and correcting his actions. A sound autoinformer can not only warn about something, but can also be successfully used to advertise goods and services in stores, retail outlets or supermarkets. The module will work when your potential customer walks past the shop window with the goods.
Autoinformers come in various forms, they can be audio or video devices. Sound informers reproduce only sound of varying duration and loudness, which depends on the characteristics of the device. Video informers reproduce video clips with sound, but this type of autoinformers is still in low demand due to the relatively high cost. Sound modules of autoinformers can work from batteries or from a power supply. In the case of using autoinformers in the retail sector, the issue of powering autoinformers should be given due attention, since the device will work constantly and one set of batteries in the module installed in the retail outlet is enough for 1 day, and if there are 100 or more points in the city or in the country, a separate maintenance budget is needed, in particular the replacement of batteries, the recording of modules, the salary of staff, transportation costs, etc. Therefore, the optimal variant is the operation of the autoinformer from the power supply. As a rule, the autoinformer is triggered by a light sensor or an infrared PIR sensor, as in security alarms. The latter significantly expands the possibilities, as it works for movement in a 360 degree radius in any illumination at a distance of up to 5 meters, when with a light sensor it is only 1-2 meters, while a good illumination of the room is important, since this determines the accuracy of the response, in the evening, the module will only work in rooms with a good level of illumination. The cost of audio informers is formed based on the characteristics of the device, the number, timing, design of the unit, the requirements for design, etc.
The company 'Promochip' specializes in the development, production and supply of autoinformers of various types. Preliminary consultation can be obtained from the company's specialists by phone or by sending a request by e-mail. Information on the proposed devices is partially presented on the company's website http://promochip.org.ua
All articles of the Exhibitor